Abutment - A structure supporting the shore end of a bridge or pier.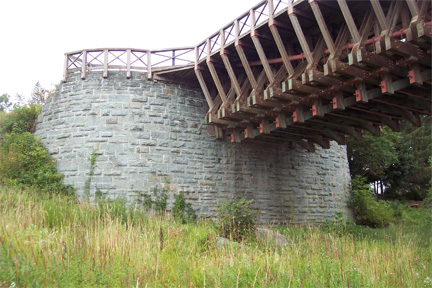 Batter Pile - A pile intentionally driven out of plumb to resist lateral movement. Less commonly known as a brace pile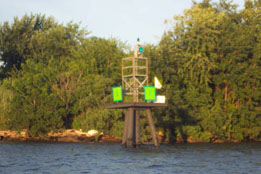 Beam - Any structural member carrying weight from one support to another.
Bearing Pile - Plumb piles bearing the weight of a structure.
Bent - A row of piles fastened together.
Bollard - A mooring device.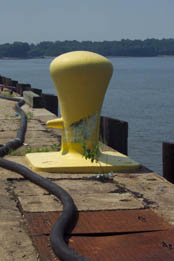 Bracing - Horizontal or inclined structural members connecting piles in a bent used to increase lateral stability. Inclined members often form an "X" and are called X braces. Horizontal braces are commonly referred to as clamps as they are often paired one on each side of the pile bent thereby "clamping" the piles between them.
Bulkhead - A retaining wall or barrier.
Buttress - A brace on a retaining wall.
Caisson - Any large diameter shaft excavated inside of a protective casing to bearing strata.
Camel - A floating log timber in front of a dock to keep ships away from the dock.
Cantilever - A projecting portion of a structure supported at one end only.
Capstan - Rotating spool used to pull heavy lines.
Cat Walk - Walkway beneath a dock.
Cell - A round cofferdam constructed of sheet piles.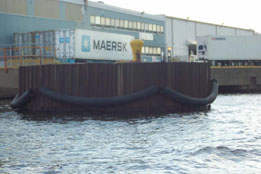 Chock - A piece of timber used as a separator between piles or timbers. Fender systems on piers were constructed of vertical members called fenders separated by horizontal chocks.
Cleat Mooring device - Line is placed in a figure eight around the horns to fasten lines from vessels.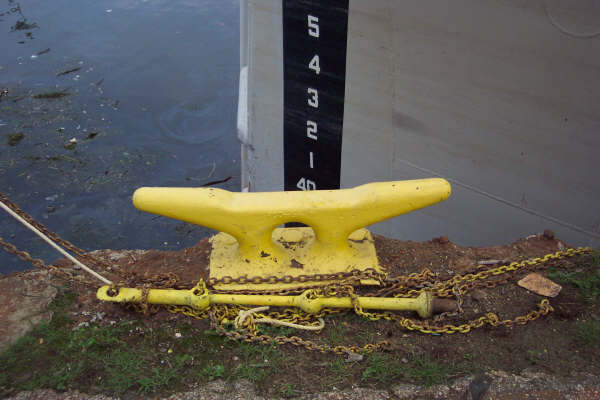 Cluster - A group of closely driven piles often used as a fender, mooring point or breasting surface.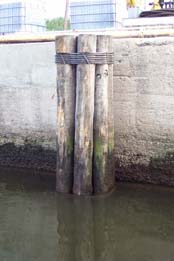 Cofferdam - Any dam used to exclude water from a construction site. Most commonly constructed of steel sheets today.
Column - A structural member carrying its load vertically.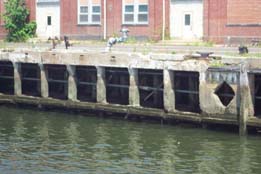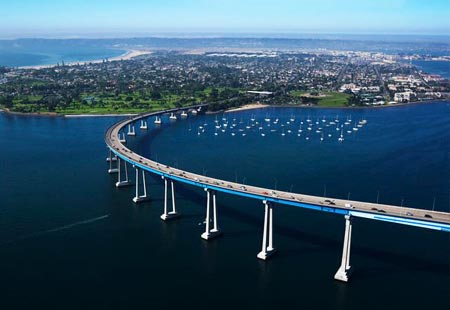 Creosote - Coal tar, heated and forced into timbers under pressure to act as a preservative.
Crib - A heavy timber box often filled with stones, sand or mud.
Cross Bracing - Inclined structural members connecting piles in a bent used to increase lateral stability. Also known as "X" bracing.
Cutoff Wall - Interlocked sheet pile wall designed to prevent the loss of fill at the interior side of a relieving platform.
Deadman - Any buried member serving as an anchor for the structure it is attached to.
Dead Load - The weight of the structure itself.
Deck - Structural member in a horizontal plane serving as a surface or floor of a pier, dock or wharf.
Diaphragm - A stiffening member between the flanges of a beam or girder also a connecting sheet pile wall between adjacent sheet pile cells.
Dolphin - A structurally independent section of a pier designed for mooring and or breasting of vessels. Similar in function to a cluster but structurally more complex.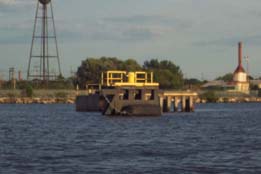 Drift Pin - A metal rod driven into a tightly fitting hole bored through two pieces of timber.
Eccentric loading - Condition arising from piles driven out of plumb.
Embedment - Length of piling driven into the earth. Many older piers have slips dredged deeper to accommodate ships with a deeper draft than those they were designed to accommodate. The dredged slip may approach the embedded depth of the piles adversely affecting the stability of the pier.
Encasement - Any structure surrounding a section of piling intended to protect or repair that piling

End bearing pile - A pile transmitting its load axially to a firm bearing surface.
False work - Temporary piles and or structure designed to aid in the construction of a structure.
Fairlead - Device mounted on the side of a vessel meant to guide a line, prevent it from moving laterally and allow it to lead over the edge of the vessel without chaffing.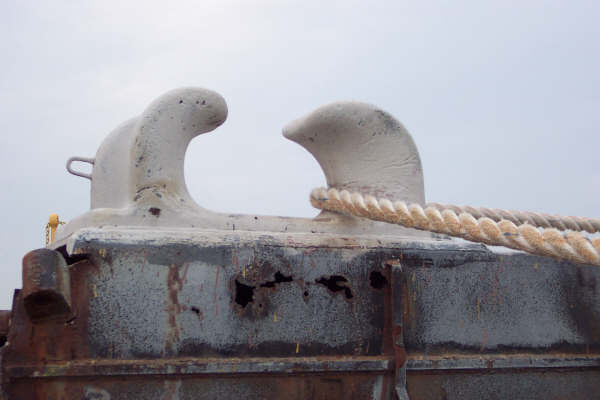 Fender Pile - Any non bearing pile driven to act as protection for a marine structure.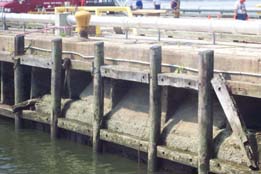 Footing - A structural member designed to distribute the load to the bearing materials or bearing piles.
Friction pile - A pile depending upon friction between its surface and the surrounding material it is embedded in to support its load.
H-pile - Structural steel member with an H shaped section used as a pile.
King Pile - The center pile in a dolphin or cluster used to place mooring lines around.
Knee Brace - A short diagonal brace.
Lagging - Timbers placed between plumb piles to retain earth or fill.
Live Load - The moving or non permanent load a structure is designed to support in addition to the dead load.
Mooring Piles - Piles specifically installed to provide mooring for a vessel.
Mudsill - A timber structure placed in the mud as a support.
Pier - An intermediate structural support between the abutments of a bridge. A Marine structure protruding out into the water in such a manner as to provide docking facilities perpendicular to the shore line.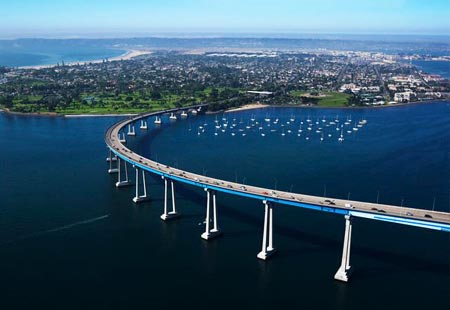 Pile - A structural member placed in the ground to transmit a load to a firm bearing surface.
Pile Bent - Two or more piles driven in a row transverse to the long dimension of a structure and fastened together by means of bracing and capping.
Pile Cap - A structural member placed on the top of a line of piles to distribute the load of the structure above to the head of the piling.
Pile clamps - Horizontal braces installed so as to clamp the piling between them. They are often installed at the head and low water mark of piles on high deck piers.
Pipe pile - Pipe used as a pile.
Plumb Pile - Pile installed as close to vertically as possible.
Prestressed Pile - Pile constructed of concrete and steel reinforcement installed under tension.
Retaining Wall - A wall designed to hold back earth or fill.
Sheet Pile - Piles, often with a lock connecting them, driven next to each other to retain earth, fill or water.
Shim - Any small piece of wood or metal designed to fill a gap between structural members.
Shoring - Temporary braces.
Soldier Pile - One of a line of piling driven so as to allow the placement of lagging between them, often used to secure the banks of an excavation.
Spall - An irregular dish shaped depression left when a small area of concrete is broken off due to mechanical damage or rusting and expansion of the reinforcement rods.
Spliced Pile - Two or more pile sections joined to make one pile.
Stringer - Structural members connecting pile caps.
Tremie - A method of installing concrete under water, also the finished product.
Wakefield Piles - A sheet pile constructed of three planks so as to leave a groove on one side and a protrusion on the other. Often used to construct cut off walls.
Waler - A horizontal structural member designed to hold the heads of sheet piles in line and often connected to a dead man.